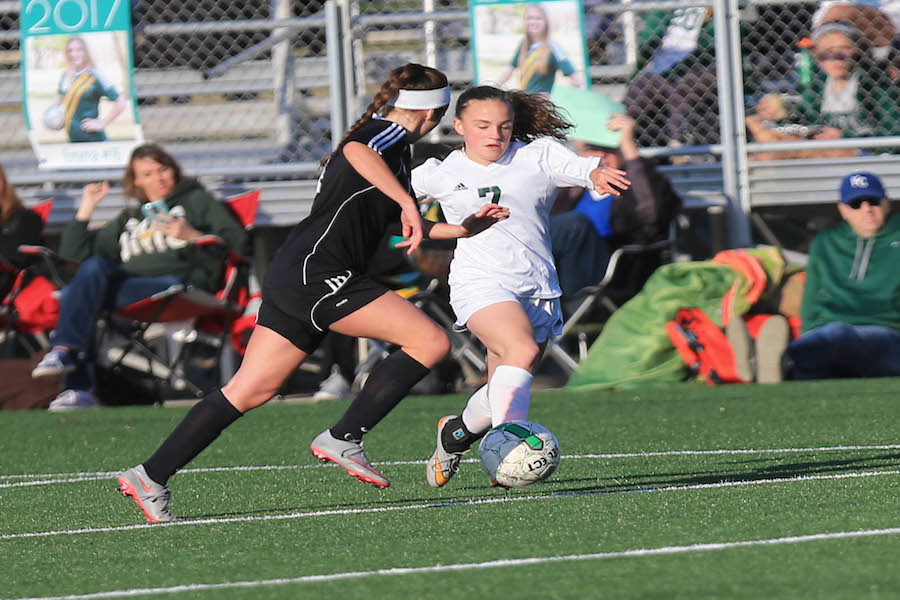 Ed Haffner
Hannah Dennington was the only original freshman on the varsity girls soccer team this year. She talks about team dynamics and when she started playing.
AW: What's it like being the only freshman on varsity?
HD: This is the second person that's asked me this. It was exciting but scary, because everyone had been on the same team, and I had just been joining, and so I was kind of just the odd piece of the puzzle.
AW: What's the hardest part?
HD: Fitting in on the field. Not really off the field, but on the field.
AW: How has the team been?
HD: It's been good. Individually, it's encouraging, but as a team, I'm like an outsider, I guess. So as a team, it's good, but I don't know what the word would be. It's not really exclusive, because you guys don't really exclude me.
AW: What are you most looking forward to?
HD: Getting to know everyone.
AW: Why do you like playing soccer?
HD: Oh gosh. It's stress relieving in a way. It takes my mind off of everything.
AW: What position do you play?
HD: Left forward.
AW: Why did you start playing soccer?
HD: Oh gosh. I have no idea. Do you mean high school or just the beginning of the journey? Um, I don't know, because my dad put me in it. I don't know, I was like 3. Because I enjoyed the sport. Because I love running. I would have to do track, because I'm good at accelerating, but not long distance.
AW: How long have you been playing soccer?
HD: It was more like 3 and a half or 4, and I just turned 15 yesterday, so that would make it like 11 years.
AW: Tell me about how you thought tryouts went.
HD: Tryouts? Good, obviously. I mean, I didn't do my best at tryouts, but I still made varsity, so, it was good.
AW: How do you expect the season to go?
HD: I don't know. It's been rough for me, personally. But it can only go up from here.
AW: Is there anything else you'd like to add?
HD: No.