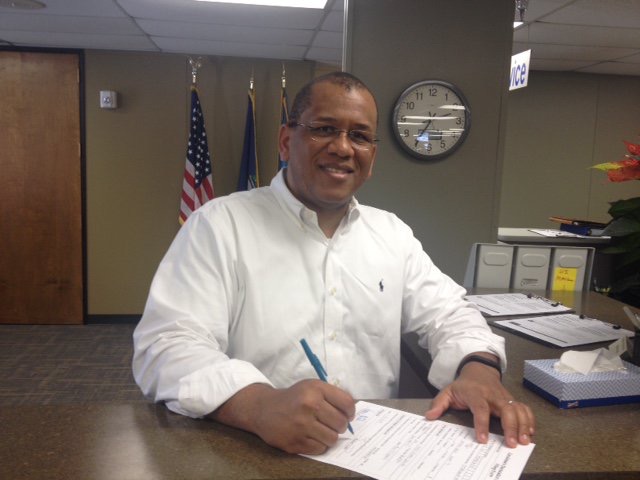 The SMSD Board of Education election is coming up this November, and the race for South Area Representative has begun with Brian Brown announcing his candidacy on Twitter on Tuesday, March 19. He is running to replace Rep. Deb Zila who has held the seat for three consecutive terms since 2007.
I have officially filed to run for the #SMSD's Board of Education, South Area Rep. Thanks to my family 4 their support. …stay tuned, there will be a lot more information to come over the next few weeks. I can't do this without you all. Thx #bb4smsdboe #ksed pic.twitter.com/NMhq6VHs7U

— Brian S. Brown (@doublebnkc) March 19, 2019
Brown, who graduated from Shawnee Mission West, has a son at Brookridge Elementary and a daughter at Indian Woods Middle School, giving him personal links to the school district and South area.
He also has years of public service experience being chair of the NEJC Chamber's government affairs committee since 2013, a member of the United Community Services of Johnson County's board, and "was appointed to the Shawnee Mission School District's Facilities Committee and was selected to serve on the Johnson County Public Square Steering Committee to advise the Johnson County Board of County Commissioners regarding future social and economic challenges in Johnson County," according to the Shawnee Chamber of Commerce of which he is also a member.
His candidacy has already been supported by Brett Parker, a Democrat representing Kansas House District 29, via Twitter.
Very exciting news! Brian was one of the first people to reach out to me when I launched my campaign. He cares a lot about our community & schools. I can't wait to hear more! https://t.co/BYI0QtwW1d

— Brett Parker (@BrettParker4KS) March 19, 2019
As of Friday, March 22, Brown is the only candidate running for this position.