Q&A with Sarah Wilkerson
Miah Clark, Copy Editor, Editorial Cartoonist
April 24, 2017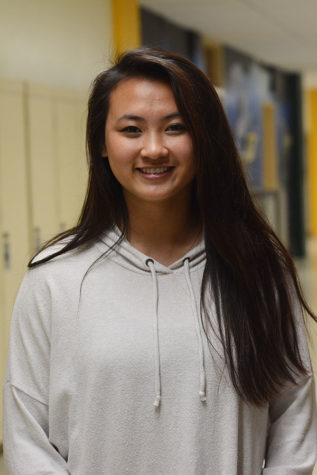 Pole in hand, junior Sarah Wilkerson has leaped over the competition as a varsity pole vaulter for South's track and field team for three years now. We asked Wilkerson a few questions about her event and how she's become so successful in it.
When did you begin pole vaulting?
W: My freshman year.
Do you pole vault outside of school?
W: I used too, in sophomore year, but now I don't.
Did any of your inspiration to pole vault come from your experience with gymnastics?
W: Yes. I did gymnastics, and my coach was a pole vault coach so she sent me to a club.
What did it feel like the first time you got over the bar successfully?
W: It was a really cool experience, because you get so high, and I got a new PR (personal record).
Roughly, how many meets have you won/placed in?
W: Freshman year, I competed JV for two or three meets, and I got first in all of those, and then I've probably placed like five times.
If you were to pick a track or field event to do instead of pole vault, which would it be?
W: I'm doing triple jump right now, so probably that.
Do you want to continue pole vaulting after high school?
W: If I get a scholarship for it then I will.
What is the hardest part about pole vaulting?
W: Probably just getting the technique down, and learning how to do everything right.
Walk me through your pole vaulting routine while competing.
W: I usually just talk to other people and try to relax as much as possible, and before I pole vault I just jump around and walk the runway.
What advice can you give to someone who wants to start pole vaulting?
W: Learn the technique first before you try to get over the bar.
Do you think pole vaulting is an event to be feared, or a dangerous event?
W: It can be very dangerous. I mean, people break their poles or you can fall back and not land in the pit and stuff.
Have you ever had any dangerous experiences while pole vaulting?
W: Not while I was vaulting, but one time the pole fell on me when I was helping and I had to get stitches. It was my freshman year, and the height was at 15 feet, and I got my side up but the other side fell and it fell right in my eye, and I had to get stitches.
What does pole vaulting do for you? What do you love most about it?
W: I just love getting to PR and always getting higher. And you make good friends out of it and get to meet new people, and you just have something cool to talk about.