Inside the Walk Out
Not everyone decided to participate.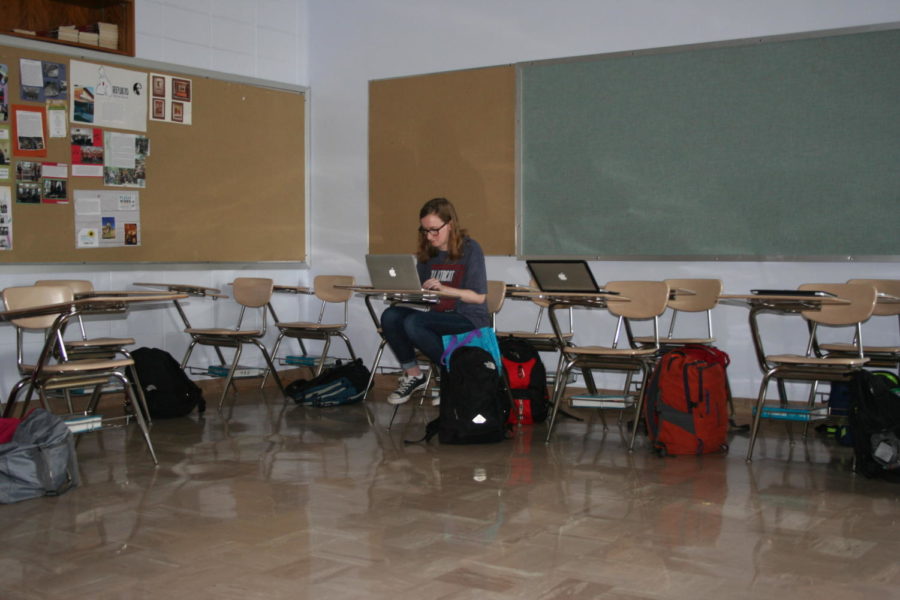 Advertisement
On April 20, the 19th anniversary of the shooting at Columbine High School in Columbine, CO, schools across the nation held walkouts to protest gun violence. Here at South, Republican and Democrats alike marched out into a peace sign formation in the stadium at 10:35 a.m. for 17 minutes of silence to honor victims of gun violence – specifically school shootings, such as the recent massacre at Marjory Stoneman Douglas High School in Parkland, FL.
Republicans and Democrats also remained inside, either opposed to the underlying political message or because they feel it wasn't the best way to handle the situation. It's safe to say that most students who stayed inside were second amendment supporting Republicans, but sophomore Sofia Lanan, who considers herself a Democrat, remained in her third hour chemistry class.
"I think that it's good that the nation is remembering the kids that died in shootings, but I'm not participating in [the walkout] because even though there is a problem with gun control in our nation, this walkout isn't going to fix anything because, honestly, if anything was going to change, Senators would've paid attention by now and done something," Lanan said. "Nothing's happening and this isn't going to fix it."
Walking around the school, classrooms are mostly empty. On the main floor of the academic wing, there were only a handful of people in each classroom. Almost all of the teachers were inside because they can't walk out and show any sort of political opinion. There was minimal staff out on the field.
Though the walkout claimed to be about honoring victims of school shootings, there was undoubtedly a political message involved in some people's mind, whether it was on purpose or not. Students at South support all school shooting victims and want to eliminate school shootings forever, but choosing to remain inside or go outside is typically a political decision on how one wishes to eliminate school shootings. Those outside may have gone out to support the victims, or may also be supporting gun control as a solution. Those inside may have stayed in class because they didn't think walking out is a good solution, or may also be supporting the second amendment.