South takes home special win on senior night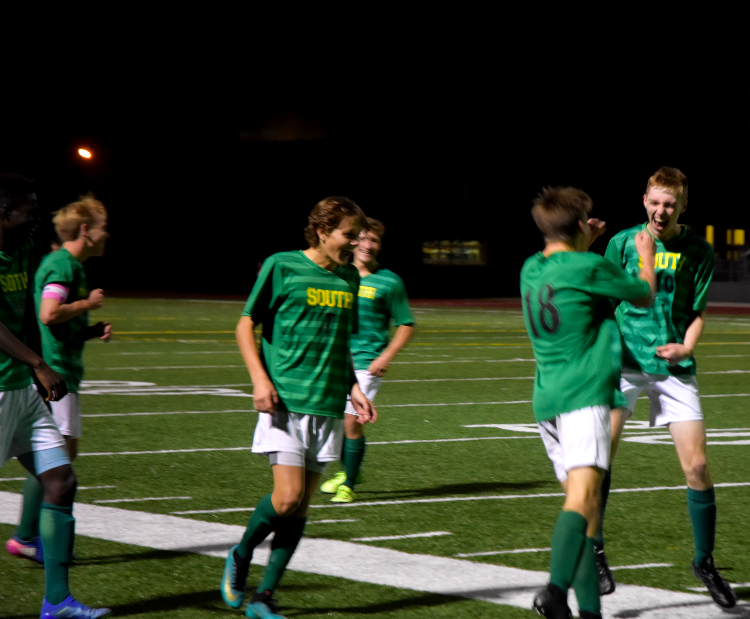 South won in large fashion Tuesday night, beating Olathe North 5-0 on senior night.
"I'm proud of the boys tonight, I'm proud of every single one of the members of the team because we put on a performance that we feel really good about," said senior captain Tim Nuñez who had an assist.
For seniors Ethan Cikot, Broc Pashia, Colin Wilkinson, Gryphon Hayes, Omar Sanyang, Wiley Kirk, and Tim Nuñez, their high school soccer careers are slowly coming to an end. They've put in thousands of hours of practice over the past four years to get where they are now, and the school couldn't be more proud.
"I was thinking about it during the anthem, just all the memories that have come from the past four years. This year has been a tough one, but we've created memories along the way and things that will last a lifetime," Said Nuñez. "It was really emotional to think that this is really the last senior night. This is pretty much it for me but I'm excited for what's to come next year and for how we're leaving the program. I'm excited."
"It's pretty sad, but I'm looking forward to my life after high school and after all this. It was a really special win though," Said Cikot.
The team also had one of the biggest turnouts of the year crowd wise, which a lot of the players appreciated.
"We started hearing them cheer and it felt really good just to look out there and see all the people cheering for us and expecting us to win, especially because it was freezing out here tonight," Nuñez said.
Tonight's game was also very special for senior team manager Juan Camacho, who has been on the program since he was a freshman. With 15 minutes left in the game, coach Matt Gordon decided to give him a shot and to put him in. He had no idea that he was going to play tonight until coach Gordon told him to warm up.
"I was kinda like frozen like 'wait, what'?" Camacho said.
"The whole program and the school is really proud of Juan. We all had huge smiles on our faces when he got a touch on the ball from the corner kick," Cikot said.
South's next game is their regional playoff game at home at 7 p.m. Their opponent has not yet been announced.