Auburn Made History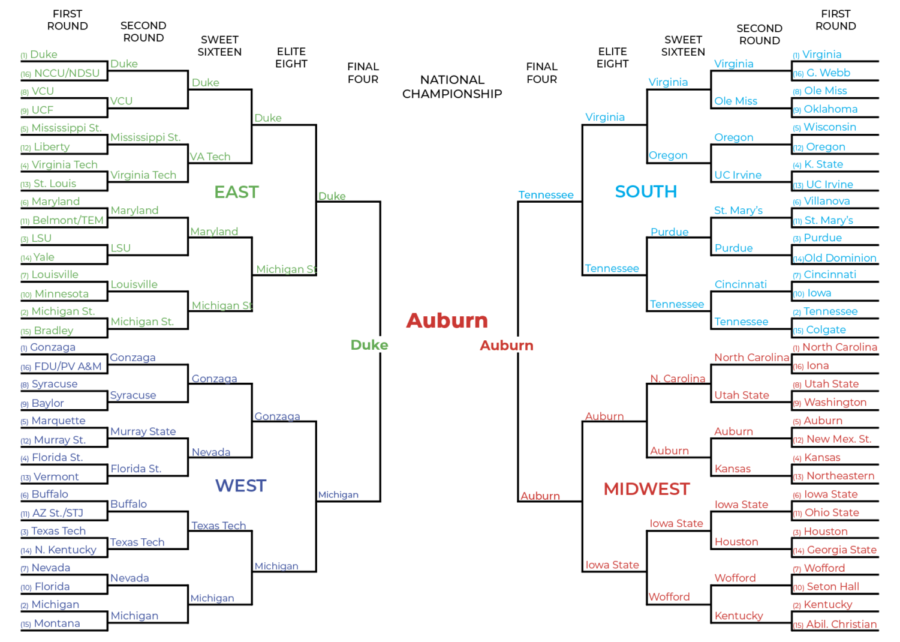 In true March Madness fashion, the 5-seed Auburn upset the 1-seed UNC with a 97-80 finish in Kansas City Mar. 29. The Tigers will be in the Elite Eight for the first time in over 30 years, and the Tar Heels will not be advancing past the Sweet Sixteen for the second year in a row, after losing to Texas A&M in the 2018 tournament.
Auburn's top scorer Friday, Chuma Okeke, was pulled out of the game following a fall while going up for a layup and did not re-enter for the remaining minutes. Okeke scored 20 points and had 11 rebounds, both team highs, and after having X-rays done on his knee, tore his ACL.
"He's hurt," Auburn coach Bruce Pearl said to ESPN following the game, "But we're going to rally. I'll go hug on him."
Auburn then played the 2-seed Kentucky on Mar. 31 at the Sprint Center. After a close game, ending the first half down by five and going into overtime tied 60-60, the Tigers came out on top, defeating the Kentucky Wildcats by 6, with a final score of 77-71.
This year's Auburn team was not only one of the least likely to make it to the Final Four from the Midwest region, they were also playing without one of their best players, Chuma Okeke; despite these obvious difficulties, the Tigers still had two standout players that ultimately led them to victory against Kentucky: Bryce Brown and Jared Harper. The pair accounted for 23 of Auburn's thirty second-half points and Harper scored six of their seventeen points in overtime.
In addition to their impressive postseason record, the Tigers went on a 12-game winning streak at the end of their regular season to earn their place in the NCAA tournament. This year, Auburn has knocked out three of the winningest teams in NCAA history — Kansas, North Carolina and Kentucky, all of whom have a combined total of 52 Final Fours– to earn their very first ticket to the Final Four.
"We'll have to play better to advance …," Pearl said to ESPN, "But we made enough plays to win a regional and go someplace Auburn's never been."
In Auburn's battle with the Cavaliers on Apr. 6, they lost in a hard-fought 62-63 finish. Despite this loss and obvious disappointment for the team, they still came the farthest in the NCAA in school history, and that is something to be proud of.