Brookwood Beavers United
Members of the local community support each other in the face of adversity.
Brookwood Elementary students entered school through the back the morning of Wed., Sep. 11. They walked over wet grass to meet with their friends while parents stood by, listening to students from Shawnee Mission South's pep band playing upbeat music like the fight song and "September" by Earth, Wind & Fire.
"We're celebrating community and unity here at the school and just kind of combating some negative energy," Darcey Shumacher, mother of first grader, said.
Many parents brought donuts and picnic blankets to share in an effort to make students feel loved. Teachers blew bubbles for younger students. Brookwood families observed the event and tried to keep the environment on the field and playground inclusive, joyful and calm. 
However, in front of the school stood dozens of police officers keeping an eye on a handful of Westboro Baptist Church members protesting a Brookwood fifth grader who is transgender.
On the other side of the crosswalk were groups of supporters, anyone from Brookwood parents to students from The Pembroke Hill School, waving blue-white-and-pink transgender flags and holding signs that read "Transgender rights are human rights."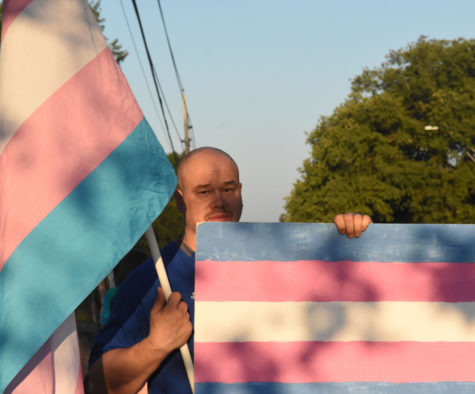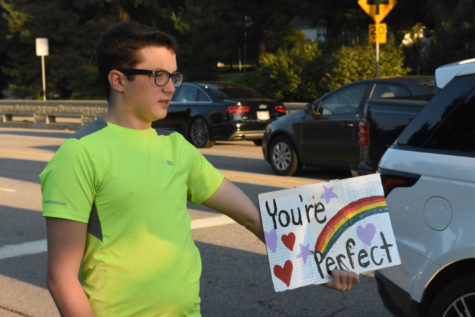 "My mom mentioned it at dinner one time probably last week and I just felt compelled to come," Ocea Thompson, a student at Pembroke, said. "It felt like the right thing to do."
Sebastian Sontheimer, another Pembroke student, and Thompson were holding handmade signs that said "Kindness" and "Compassion," respectively.
"That's the message they don't reflect and that we're trying to. We want to be kind. We want to be compassionate. We want to show our support," Sontheimer said.
Instead of entering the school from the front, traffic was redirected to avoid 103rd Street. Students used side and rear sidewalks, entering through the neighborhood behind the school. Parents, teachers and even clergy from local Presbyterian churches wearing rainbow stoles lined the sidewalk, welcoming students and saying, "Have a great day!"
The event was organized by Brookwood with support and aid from the Shawnee Mission School District. The top priority was to keep the students safe and shift the attention away from what was happening in front of the school, and towards uniting the school, encouraging students to have a good day.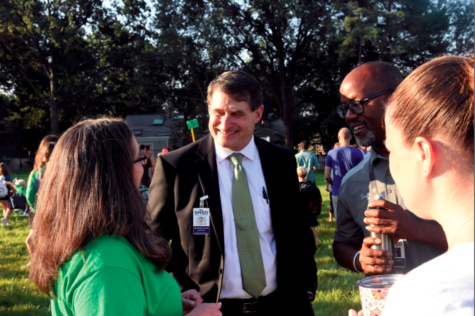 "Today, it's about Brookwood – our job is to support them. So we did not do anything in a planned way other than just having a few administrators here," district superintendent Mike Fulton said. "The board, as a whole, and the administrative team are completely supportive of what's going on here today. But we also recognize that because it's a school event, we pretty much left it as a school event rather than turning it into a much bigger district event, because… part of the reality of this is that the bigger the event becomes, the more attention it draws to the group that's doing the protesting. And so we didn't want to participate in propagating that kind of approach, which is why we've kept it a little bit more low-key and just let the school community in."
Both Fulton and Brookwood principal Kevin Frick credited parents and the community as being very supportive. The feelings were reciprocated by parents toward the school for effectively handling the situation.
"I'm very happy with not just the school but Shawnee Mission School District and I'm really proud of how they've come together and figured out a plan to focus on the right things here for the students," Schumacher said.
The event ended with a speech from Frick. He thanked the parents for "a morning he would never forget" and left the students with an important message.
"To my students, right now, I want you to know one thing. One thing. Remember this: you are loved. You are cared for. Never forget that. Every single one of you," Frick said. "So before we go, I want you to give your parents a big hug, tell them you love them and find your teacher."
The students did as told and walked, giggling with their classmates, into the building.