Human Origins From the South Side
South graduate John Gurche talks about his work and book.
Hang on for a minute...we're trying to find some more stories you might like.
The Linda Hall library in downtown Kansas City was bustling on Wednesday, September 18th with people trying to grab seats before a presentation being given by world renown paleo-artist and South graduate John Gurche. They came to learn about Gurche's new book "Lost Anatomies: The Evolution of the Human Form," which is an illustrative journey through human evolution.
Gurche attended Trailwood Elementary and learned to love art at a young age. He graduated high school in 1969 and was a part of the first class to go all the way through at South. He is now a master in the field of paleoart and has illustrated and sculpted for multiple National Geographic covers. He also currently has multiple sculptures in the Smithsonian David H. Koch Hall of Human Origins. 
"When you're a kid and you're fascinated with something, you draw or do sculptures. And I just never quit," Gurche said.
However, he understands that some kids are torn between science and art, and he has advice for them.
"If you have to choose between paths, it's easier to keep the art alive on the side and take the scientific route…" Gurche said. "If I imagined myself going through art school and trying to keep up on all the scientific literature – I can't imagine doing that." 
Gurche's path shows that if you're passionate about something, you absolutely can make it a career if you work hard enough.
This event was held at Linda Hall Library which is an independent research library devoted to science, engineering, and technology. A not-for-profit, privately funded institution, the Library is open to the public free of charge and hosts many events that could prove extremely interesting for South students. Visit https://www.lindahall.org/ to see upcoming academic events and exhibits at the library, you never know what could peak your interest or get you some extra credit. The current exhibition is "To the Moon: The Science of Apollo" featuring artifacts from the Apollo missions, and exhibitions rotate every few months so be sure to keep tabs for future fascinating features.
Special thanks to Paula Wheeler and Amy Scrivner for their help on this story.
You can follow John Gurche on Instagram: @john_gurche_paleoart.
About the Writers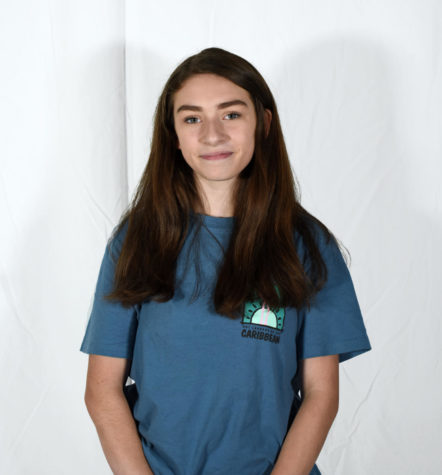 Abby Cox, Social Media and Circulation Manager
Abby Cox is The Patriot Social Media and Circulation Manager. Cox is the Editor-In-Chief of South's literary magazine, Inscriptions, and enjoys all forms...