How to Homecoming
Homecoming is equally exciting and stressful, and we all know it. There's so much to do for girls and even more for boys: having your mom get your suit, having your mom get your bow tie, making sure it matches your date's dress, having your mom order the boutonniere, making sure it's what your date told you to get. I'm kidding…kind of.
In all seriousness, there's a lot for everyone to do in preparation for Homecoming. Lucky for you, I'm going to give you the rundown right here, right now. 
It all really starts with the decision to go at all. No one is required to go, of course, but you don't want to miss out on high school experiences like this. 
With the decision to go, comes the dreaded worry of a date. First piece of advice: do not stress about having a date. Boys, if you like a girl, make her a corny poster and ask her to go with you. If you're a girl and like a girl, ask her too. I'm just trying to say you should ask someone you want to go with.
You don't have to go with someone romantically either. You can go with your significant other, of course, but you can also go with a friend. You can also go with a friend as a date. You can also go with a group of friends. The possibilities are endless. It's just up to you to figure out what you want.
Let's say you choose to have a date. Now you have to decide if you want to go in a group or just the two of you. I personally think it's much more fun to go with a group of friends with your date because it just makes everything more fun. If you're going with a date you don't know super well or y'all are "talking" or kind of a thing, then going with a group would make it less awkward and take away some of the pressure.
If you choose to go with just the two of you, then you have the advantage of not having to try to organize a group of people. You're free to follow the rest of the advice I give, but to a lesser degree.
Let's say you choose to go with a group. You have to think about who your friends are, who your date's friends are – generally, who you want to go with. You also have to take into consideration how many people would be in your group. I've seen groups of six and groups of 42, so it's all possible. However, in my experience, the bigger the group, the harder it might be to find rides, a dinner reservation, an after party, but we'll get into that soon.
It's up to you to figure out what group you want to go in and how many people you're willing to go with. That's a personal decision. If you choose to go in a larger group – probably 14 or more – then I recommend designating one or two people to generally plan everything. It's hard to discuss things when everyone is trying to make decisions, so having everyone give input but having two people make the final calls is a bit less stressful.
The few people in charge should be responsible and not overly opinionated themselves. They can make the best decisions for the group on pictures and dinner and such – again, we'll get deeper into those soon – and be responsible for making the reservation call. It's easier for them to do it than there be a miscommunication about who did or, even worse, didn't make the reservation call. That could be disastrous, but it's preventable.
Adding to that, if you have lots of opinionated people in your group, then you might have a difficult time making decisions. Everyone will want to give their input and then no one will be willing to compromise. I can't tell you how to avoid that, but beware. 
Let's discuss pictures and dinner. Before I get too deep into them, you should know that it's an unspoken rule to do pictures before dinner, and for several reasons. First, we know how messy boys can be and do we trust them to not spill on themselves? Not really. Secondly, everyone is going to have a food baby. That's just the facts. And those girls wearing dresses on the tighter side – a.k.a. me this year – are not going to want to take photos with a food baby – also me this year.
Let's say you decide to do pictures before dinner – great decision. I'm not going to lie, it can be kind of difficult to find a good place, but there's a lot of different places around our city to go and at least check out: country clubs like Brookridge Country Club, ponds and parks like Shawnee Mission Park and generally nice areas like Corporate Woods. You could also travel a little farther out and take photos downtown at the Nelson-Atkins Museum of Art, the World War I Museum or the Scout statue.
When deciding a time, or even place, for pictures, keep in mind that it's fall and the sun is setting a lot earlier than we're used to. "Time and Date" predicts that the sunset on Oct. 5, 2019, in Overland Park will be 6:55 p.m., so maybe plan around that.
Let's discuss dinner. This should be easy-ish to decide because the boys are, typically, paying for dinner, so they should get the final say. Unless they pick a dumb idea, then a vote might need to take place. However, food allergies and dietary restrictions need to be kept in mind. Don't make a vegetarian go to a steakhouse.
After dinner is the dance. Now, a lot of people try not to go to the dance because it's "lame," but what's the point of getting dressed up and everything if you don't actually go to the event you dressed up for? Just stop by and see the absolutely phenomenal decorations Student Council worked hours on. Visit some friends. Check out the decorations. Get loose on the dance floor. But seriously check out the decorations.
After everything is the after party. There's lots of different ways to go about this. You could go back to someone's house and have a house party or you could do something less traditional and go bowling or to a movie. The point is to just do something fun and somewhat relaxing after all of the preparation and driving you've been doing all day. 
That's really the end of the lineup. Those are all the basic events that go along with a dance. However, you can tweak it or not do any of it. You should just have a fun night getting dressed up with people you like and have fun. That's it.
About the Writer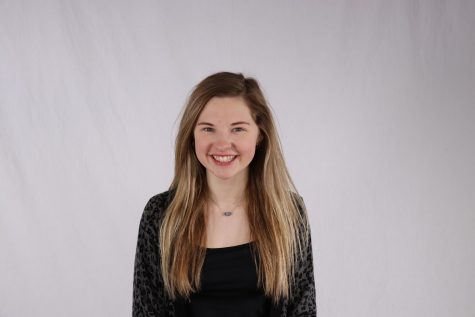 Alma Harrison, Editor-in-Chief
Alma Harrison, also known to her friends as Ali even though they still usually call her Alma, is a senior at Shawnee Mission South High School and is on...