South West Showdown
South set to face district rival SM West in season kickoff this Saturday.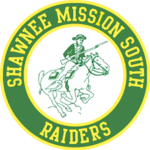 Overland Park, KS – The Raiders are set to face district opponent, the SM West Vikings Saturday, September 19. This will be the first game of the season for both teams as South seeks their first victory since the 2019 season, after making a quick exit in the 2019 Kansas 6A playoffs, getting shut out 40-0 by the Mustangs of Blue Valley North. 
West has lost starting quarterback CJ Callaghan and starting running backs Luke Jones and Treyvon Gilliard to graduation. Also graduated are Anthony Morris, Wesley Clark all at wide reciever. West was able to put up 113.1 receiving yards per game last thanks to their tight knit core of wide outs. But with two of their most productive players missing, expect them to struggle a little coming up these first few games. And for rushing, the trio of Jones, Callaghan, and Gilliard put up 152 rushing yards per game last year but all have now graduated.
A senior group made up of Miles Macklin, Max Close, Ky Edwards, Uriah James, JR Wesley, Cole Rues, Harley Witbrod, Mason Montell, Tyler Welch and Brett Conner lead South this year. However, they lost Kansas-commit Will Huggins who was marked as a 3-Star tight end. Coach Brett Oberzan is looking to improve the team from a 2-7 record, even with losing a D1 commit in Huggins. Several new players could help the team improve. Junior Carter Dewberry hopes to help.
"I hope to help by pushing my limits play by play [as well as] improving my chemistry with fellow teammates," Dewberry said after practice.
Dewberry brings experience from playing running back on the Broken Arrow High School sophomore team in Broken Arrow, Oklahoma.
"[I] drive to constantly improve myself not only for myself but also for the team," Dewberry said about what he could bring at running back.
Spectators should not expect to go to the game, which is being played at the South district stadium, as only two immediate family members of players are allowed at the game. You will still be able to show spirit for your Raiders on WebEx by wearing green and gold on Friday 9/18. More updates about the game will come as game day approaches.