Cher Lloyd Tours Kansas City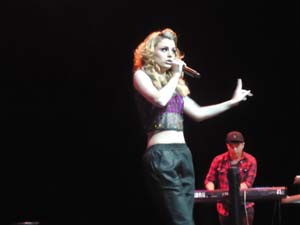 Advertisement
Hang on for a minute...we're trying to find some more stories you might like.
Up and coming pop sensation Cher Lloyd arrived at The Midland Theater Mar. 18 with opening act, Jackson Harris. Kicking off her tour in KC, Lloyd performed most of her debut album, Sticks & Stones, along with music from her unreleased album, Sorry I'm Late.
Sticks & Stones was released Nov. 4, 2011 after Lloyd placed fourth on the seventh series of The X- Factor in 2010. Lloyd uses her rough soprano and thick British accent to shape her music into a combination of rock and hip-hop. She is a confident artist and said to her fans, "This new album is very different from Stick & Stones, but it's still me."
In late 2013, Lloyd released a new single, I Wish, featuring T. I. and plans on releasing her new album, Sorry I'm Late, May 27. She is currently on tour for her second album, but has also taken part in Demi Lovato's, Neon Lights Tour, as an opening act along with Fifth Harmony.
Lloyd kept her stage-craft simple and her lights show bright. She was energetic and seemed thrilled to perform her new album. She spoke in short sentences during the show and shared with meet and greet patrons that she is more confident in her singing than her public speaking. Lloyd showed her energy by jumping and running around the stage. Although her stagecraft is simple, her methods of performance are elaborate and fun. She used bright colored clothing and sparkly shoes and accessories to catch the audience's attention.
Lloyd transitioned from performing in front of large audiences to a small crowd of about 250 people. With an intimate crowd, she was able to talk with the fans in the first few rows and could respond to questions they shouted from within the sea of people. Lloyd later came outside of the venue to meet fans who waited and was considerate of all the fans who were waiting early in the morning and the fans waiting late at night. She said she wanted to spread the love among everyone there and spent hours taking pictures with fans and signing tickets, posters, shirts and more.