Soccer team's hard work fuels post-season ambitions
by Alma Velazquez
The field is 120 yards. The game is 80 minutes. The temperature is 90 degrees, and the players must run continually and be mentally alert to anything that comes their way. In any game with this level of intensity, outstanding performance is a hard task to achieve.
The whole school listens to the weekly announcements of the incredible goals, dramatic wins, and startling statistics of the boys' soccer team. But how many students actually comprehend the amount of effort that goes into reaching this level of skill? And how many choose to be a part of the team's success? Currently ranked third in the state, this year's varsity soccer team is confident that it has a good chance of making it all the way to the state tournament.
"So far this is the best team I've had in all four years of my high school career," co-captain Asher Herbet said. "We should, with the amount of skill that we have, be able to win a regional championship and then go to state."
The team, made up of 13 seniors, several other long-time soccer players, and talented new additions has the advantage of experience with both the game and each other.
"Almost everyone on the team has played high –level soccer so I think everyone here has something to contribute," Herbet said.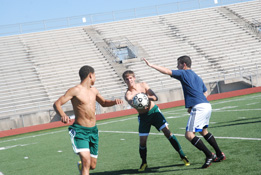 However, experience alone is not the cause of success. Passion and dedication to their individual performance is the main driver in the players. For the team, the combination of talent, hard work, and pure love of soccer is what brings the best results.
Junior Nash Medlock, who is top scorer on the team with 11 goals this season, said years of training have contriuted to the success he's had this year.
"I've been playing since I was 3 years old: rec and then club and then now high school," he said. "I really stress a lot about being the best that I can be and so far I've had one of the best seasons that I could ever imagine."
It's the time spent outside of school — on club teams, at the recreation center and during summer camps — that many players believe set them apart from the teams they have defeated so far.
"I played on a club team up until last year and we had practice three times a week [and] games on weekends," said co-captain Doug Brown. "When there's nothing to do in the summer you just go out and run. We just need to work hard all the time, not take some days off."
While many students use the summer to do just that, the soccer players are required to give up six weeks of sleeping in during the summer to train extensively. According to Herbet, that training included an hour of daily conditioning practice followed by an hour and a half of scrimmaging two days a week.
"We have a lot more fitness stuff we have to put in than most teams and that's how we last during the games," said co-captain Dan Boxler.
Head coach Travis Gatewood understand this about the game. For any team, the foundation for success is a foundation of fitness, which is why his summer soccer camps — attended by 75-80 percent of the players — are designed to prepare them for long games that test their endurance.
"I think Gatewood actually runs one of the best soccer camps in the district; we come out and we train hard every day in the morning," Medlock said. "While most kids are still in bed we're out here running getting in shape for the season."
For Gatewood, though, camp is about more than ensuring fitness.
"I think [having many players attend camp] has paid huge dividends especially in terms of getting a lot of wins when we come into the season fit, and also time to develop some chemistry as they work during that summer and so they know each other by the time the season starts," Gatewood said.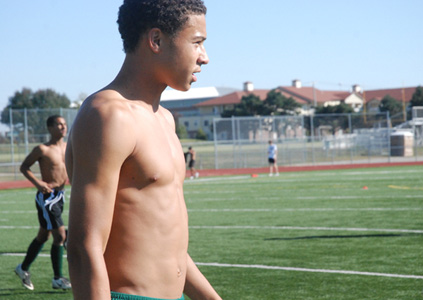 With forty four goals in the season so far, the team has had some significant victories. Among them: Olathe South and Shawnee Mission Northwest, to whom the team lost last year.
"I'm proud to be on the team everyday, but [especially] when we beat Olathe South, cause we haven't beaten them all three years, Brown said.
All the work that goes into the game, however, takes its toll on the players. Recent injuries have required substitutes to play important roles during varsity games.
"In our most recent game we had a total of six players out so we had one varsity sub and that's creating a challenge in terms of keeping our players healthy, keeping them rested because they're expending a lot of energy in the games," said Gatewood, who also believes that if the team heals in time, they will be one of the better teams in the area during post-season.
Though the players recognize their level of talent and skill, they also have no problem admitting their faults and seeing room for improvement.
"We're a lot stronger physically and in the air, but we panic a lot. We're not as composed as we should be," co-captain Devyn Simmons said. "When we get down a goal or when things aren't going our way we kind of start playing kickball and it just throws us off."
Perhaps it's mistakes like this that played a part in the team's only two losses and one tie.
"I think the boys were disappointed that we tied Shawnee Mission East. That's a game they always want to win. And losing to Olathe East was another hard one because it put us in a position where we're in second place in the league now," Gatewood said.
In order to win league the team now has to beat two competitive teams and Shawnee Mission East has to lose a game.
"It's not in our hands anymore so that was kind of disappointing," Gatewood said.
Another important aspect of the team's achievement comes from support from fans. Increased attendance has motivated the team.
"In the past, soccer hasn't been too big of a sport, just in America in general," Medlock said. "But you know we've been winning and having 13 seniors on the team, a lot of the senior class comes out and supports us and since it's their senior year they want us to do the best."
Gatewood agrees that fans help the players' morale during the games.
"I think the fans are always that extra man on your side, and against Shawnee Mission Northwest we had a great crowd that really helped push us to victory," he said. "I think that's huge — if you've got a loyal following."
The team remains very optimistic about their chances at regionals despite recent losses and they continue to work hard towards their goal.
Medlock said, "With any team you always hope that you go as far as you can go and do your best. If we keep going and hold our heads up, not let refs contradict our games, [and] be in charge of the ball, I think we have a good chance."