6 of the Easiest World Records to Break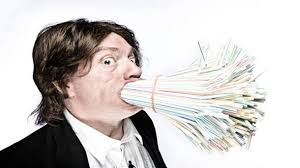 Do you want to be remembered for doing something totally outrageous? Here are 6 of the simplest (but still difficult) world records to break.
1. Hottest chilli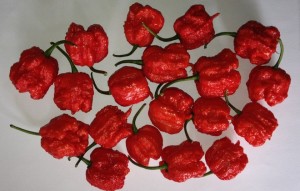 Do you enjoy adding a little spice to your foods using items like Cholula and Sriracha? Well, next time you're looking for a little kick, don't add any hint of Carolina Reaper because it's totally not a good idea or remotely similar to any other kind of hot sauce or pepper…
The hottest chilli is Smokin Ed's 'Carolina Reaper', grown by The PuckerButt Pepper Company (USA), which rates at an average of 1,569,300 Scoville Heat Units (SHU), according to tests conducted by Winthrop University in South Carolina, USA, throughout 2012. The Scoville Unit (SHU) scale is a method of quantifying a substance's 'spiciness', through determining the concentration of the chemical compounds responsible for the sensation, which are named capsaicinoids.
2. Longest ears on a dog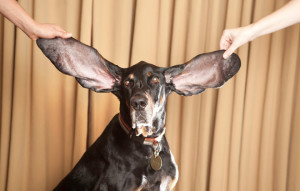 If you ever think you have big ears… don't feel bad because this dog's ears are by far bigger.
The longest ears on a dog measured 31.1 cm (12.25 in) and 34.3 cm (13.5 in) for the left and right ears, respectively, on 8 June 2010. They belong to Harbor, a Black and Tan Coonhound, who is owned by Jennifer Wert of Colorado, USA. Harbor is a 7 year old Coonhound (b. July 2003) who weighs a healthy 40.51kg (89.2 pounds).
3. Most spoons balanced on a face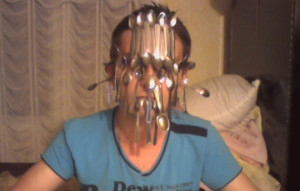 If you have a fear of spoons, or spoons on your face, I would not advise attempting this challenge.
The most spoons balanced on the face is 31 and was achieved by Dalibor Jablanovic (Serbia), in Stubica, Serbia, on 28 September 2013.
4. Largest collection of Charlie's Angels memorabilia.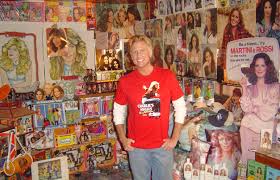 I more of a Cameron Diaz and Drew Barrymore Charlie's Angels kind of girl…
The largest collection of Charlie's Angels memorabilia belongs to Jack Condon (USA), with 5,569 items, which he has been collecting since 1976.
The most rotations hanging from a power drill in one minute
Someone had to be working on a project, using one of these, and then they stopped paying attention and just let go…
The most rotations hanging from a power drill in a minute is 148 achieved by The Huy Giang (Germany) on the set of 'Guinness World Records', in Madrid, Spain, on 23 December 2008.
5. Longest duration balancing on four fingers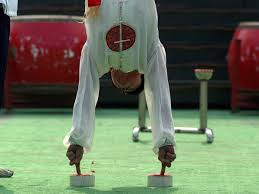 Yoga level= you kicked your sensei in the face with your mind powers, how is this even possible?
The longest duration balancing on four fingers is 19.23 sec and was achieved by Wang Weibao (China) on the set of Zheng Da Zong Yi – Guinness World Records Special in Beijing, China, on 9 November 2008.
Most straws stuffed in the mouth (hands off)
I love that moment when my one straw doesn't work, but why rely on one straw when you can have 400?
The most straws stuffed in a mouth is 400, achieved by Simon Elmore (UK), who held them there for 10 seconds at the Mark 'n' Simon Show, Sollhuben, Bavaria, Germany, on 6 August 2009.
6. Greatest distance traveled with a pool cue balanced on chin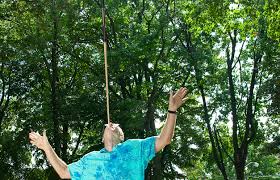 I thought the, "greatest distance traveled" would be normal and then the tab extended and it added, "with a pool cue balanced on your chin." It's like the rule makers said, "So help me if that pool cue isn't a part of this record if won't make it into the book."
The greatest distance travelled with a pool cue on the chin is 1,668 m (5,472 ft 9 in) set by Ashrita Furman (USA) at the Joe Austin Playground in Jamaica, New York, USA, on 6 July 2008.