Field gets ready for the season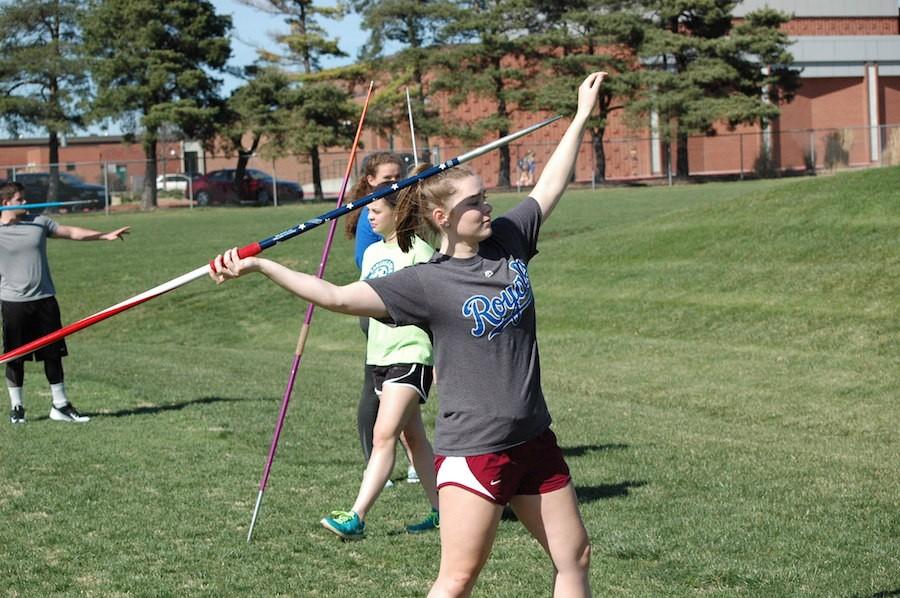 Danielle Mitchell, Heritage reporter
April 21, 2016
 From javelin throwers to shot put and discus, the field season kicked off to a productive start.
  "There's a lot of freshman and 10 new people throwing the javelin this year so that's really exciting," sophomore Dottie Powell said.
  Each year there were routines that were kept the same, but some, like warm-ups changed.
  "The warm-ups were different because you have to run more and do burpees so we would have less injuries," junior Brock Minton said.
  Along with new warm-ups, leadership was also something that was a little different since all the seniors left.
  "Last year, there were three varsity throwers that all medaled in state, but we don't have that leadership, so it feels weird being leaders," junior Kamau Kimaru said.
  On the way to meets, everyone had their routine to get in the zone.
  "I like to just chill and listen to music on the bus ride to a meet, or just hang out before if the meet is at South," Powell said. "Then we all do a team warm-up with every event on the track. Then, I go with the rest of the javelin throwers and do our specific warm-up with javs and measure our steps before we throw."
  For Kimaru, his routine was a bit different.
  "Me and the other varsity throwers take a bunch of snacks to our meets and instead of starving like the runners," Kimaru said. "We eat a bunch of food so our stomachs are full."
  A helpful hint from the coach was to try and change the way you do things. Coach tells the throwers what they did well or not after every throw so they know what they need to fix for the next one. The throwers only get a few throws each meet so the coaches giving them advice could help them with their distance for each throw.
  "It feels really good when your throw is good," Powell said
 All of the events got critiqued by their coaches.
  "They critique our form and our technique. We spin in the circle if were spinning to slow or to fast they tell us," Kimaru said
  With the school's 50th anniversary in full swing, field held an alumni day at the South relays. The State champs who come back ran a victory lap and the Hall of Famers were recognized in front of everyone.
"The meet went great, but there wasn't as many alumni as we had hoped," Coach Wannamaker said.
Clara Sitas won the Discus and took second in the Shot Put. Other medalists included Gretchen Fiebig, Desi Upton, Rakeya Martin, Cameron Union, Christian Murrell.