New Rocky Art in Front Hall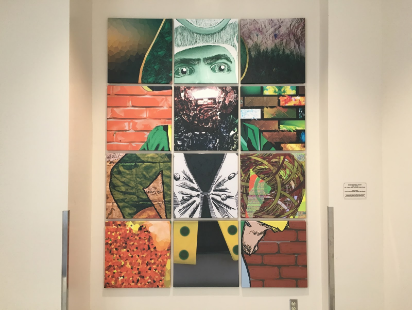 The students had wanted to do something to celebrate the 50th anniversary of South, and decided to collaborate on a Rocky collage.
"I think it's a good addition, and brings it [the front hall] together,"  junior Grace Reiman said.
The finished project, a collage of small canvases used to create a larger image, was created by multiple design students. Each artist was allowed to use their own personal style to make their canvas unique.
"We didn't collaborate a whole lot, it was about individual artist's talents and style,"  junior Lauren Bass said, who was on the team of designers last year.
Bass designed the bottom right square of wrapped canvas. Students used a variety of artistic mediums, including digital design programs such as photoshop.
"[Designers] would come to me and [I] would tweak it to be presentable," senior Drake Rorabaugh said.
Rorabaugh was chosen by design teacher Kristine Mesh to lead the project along with senior Alex Gorsuch and former student Mariefel Sunglao. Once the designs were finished, project leaders wrapped them onto canvases and the piece was complete.
"Semicentennial Rocky then seemed to be the best way for us to be individuals, while still working together for a common piece and allowing us to use the diversified digital tools within the CTE Department to give something back to the South community of the past, the present and hopefully for years to come," Mesh said. 
The piece was a long time idea of Mesh's and Rocky gave the class the opportunity to design it, giving new life to the front hall.