Boys soccer takes loss from Shawnee Mission North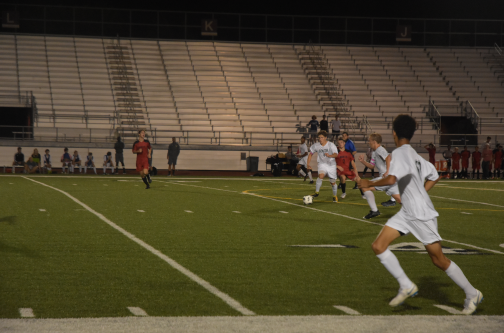 Thursday's game against Shawnee Mission North was close with North scoring the game winning goal with only 15 seconds left in the game on a miraculous 20 yard shot. This is South's second close loss this season, and it's definitely gotten to some of the players' heads.
With five minutes left in the game, the score still 0-0, senior Ethan Cikot received a yellow card for taking a player out from behind.
"I thought it was a clean tackle since I touched the ball first. I think it was just because of the angle. I came from behind, which refs usually call, but still I cleared the ball and he ran over my legs," Cikot said.
For the entirety of the game, South dominated in ball possession, completed passes and shots on goal, but they just couldn't seem to get the ball into the net.
"Finishing. Finishing goals definitely. We had the ball in their half and in their box a lot of the time and if we could have just punched a couple through we would have won," Cikot said when asked about what the team could have done better.
Most players, however, are staying positive after the last-second loss.
"You know, I've lost so many of these games before where we should have won and I've won so many games where should have lost. The best thing to do is to keep your head up and look forward to the next game which is Tuesday," senior Colin Wilkinson said.
After the game in the team huddle, coach Matt Gordon's message to the players was still optimistic.
"If this is the lowest point of our season, then this is perfect," Gordon said.
Tonight's game was also the first game back for seniors Colin Wilkinson and Captain Tim Nuñez along with juniors Diego Virgin and Jackson Owens, as their suspensions have been lifted.
"It feels great," Wilkinson said. "Senior year, I'm very excited. I'm overwhelmed with excitement and it's just good to be back on the field."
South's next game is against Lawrence Free State at home on Tuesday.