We CAN
Canned food drive helps Johnson County Christmas Bureau during the holiday season.
Beginning in October, you've probably been told numerous times to bring cans to school, but why? As students in Johnson County, we often forget that others – within our own community – are not always as fortunate as we are. The holidays can be especially hard for those who live below the poverty line. That's why the Johnson County Christmas Bureau sets up a Holiday Shop every year. Anyone in need can come in and shop for clothes, food, toys and anything else they may need to get through the winter and holiday season. But where do they get all of their resources? Donations. Without generous hearts in our community, none of this would be possible. And that is why Shawnee Mission South's Student Council organizes an annual canned food drive leading up to the holiday months.
"We have a bunch of silly activities and silly prizes, but the main point is that we can help the people in poverty in the Johnson County area," StuCo publicist senior Liz Crawford said.
This year, for the first two weeks, there was a competition among seminar classes. The class that brought in the most cans would win free Chick-Fil-A. During the second week, there was also a coin drive. Each grade had a large jug. The idea was to put coins in your grade's jug for positive points and dollar bills in the other grades' jugs for negative points on their behalf. The grade with the most points will be released early on Friday, Nov. 15. The third week is a bracket between clubs and activities. Each day, activities are paired against others and the group that brings in the most cans moves onto the next round and this continues throughout the week until there are just three teams left. Whichever group brings in the most cans will get to go to Chicken N Pickle for free.
"We have to figure out new ways to incentivize people to bring in cans because as much as we'd like for people to just bring them in from the goodness of their hearts, sometimes they need an extra push," Crawford said.
The entire canned food drive will wrap up with the excitement of Mr. AmeriCAN, a men's beauty pageant, on Nov. 14, from 7-8 p.m. During the event, the contestants, who are selected from each club or activity by their sponsor, compete in traditional beauty pageant activities – such as talent, spirit, formal wear and an interview, in an almost satirical manner. In previous years, StuCo has used Mr. AmeriCAN as a way of promoting the canned food drive; however, this year the collection date for cans was moved up, so all money from admissions will be donated to the Johnson County Christmas Bureau.
About the Writer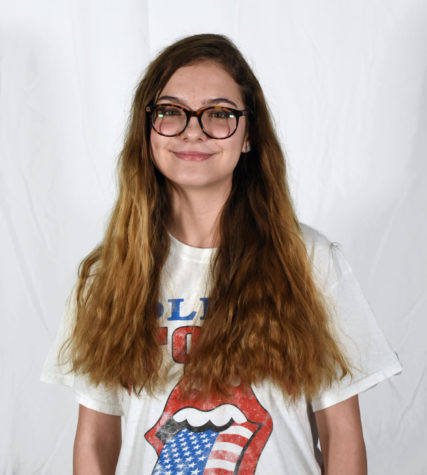 Ansley Chambers, Opinion and Head Copy Editor
Ansley Chambers is the opinion editor and copy editor for "The Patriot". Chambers is the oldest of six siblings and has danced since she was three....