Typical Day in the Office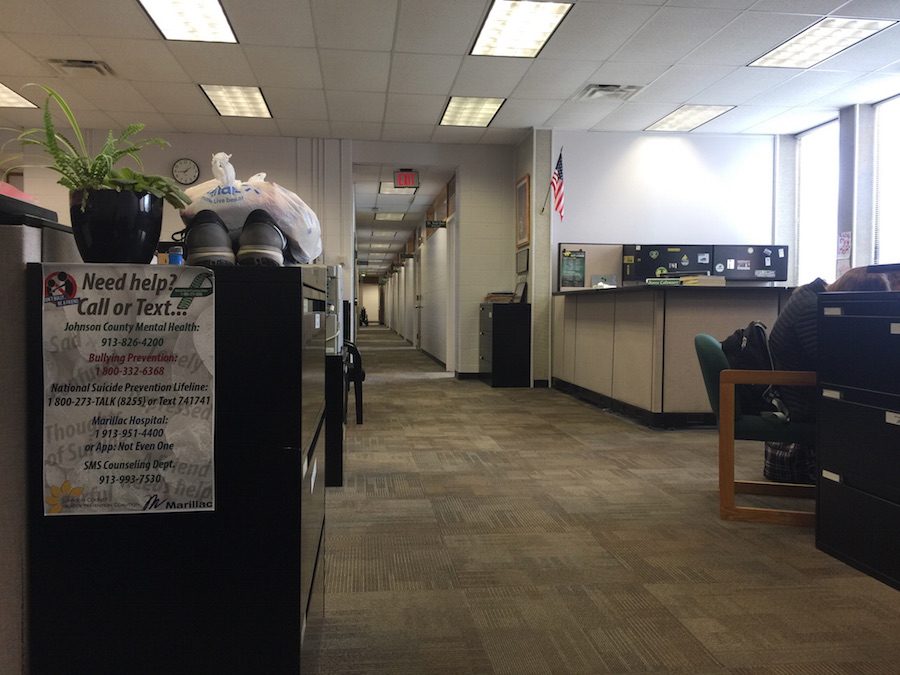 Carlee Alexander, 21st Century Journalism
April 26, 2016
In the calm room with sounds of fax machines and printers going off the phone rings, "Shawnee Mission South, how can I direct your call?" "Ok hold on" as Receptionist Diane Johnson says as she picks up the phone. People going in and out you never know who you're going to see.

"How was the meet yesterday?" lab assistant junior Karynn Carrol asked while track and Field coach J.J Wannamaker was standing in front of Johnson at the front desk. "It was good!" Wannamaker said. As the two got into the conversation a little bit more Wannamaker moved over to where Carrol was sitting and contiued their conversation about the last track meet and the upcoming meet in Lawrence and who all was going to participate.

An older lady walks into the office doors "Hi! How may I help you?" Johnson asked.
You can tell that the lady didn't really know what to do or how to bring up her situation, "Yeah hi, I was wondering if you sold Harvey tickets here and what days the school play goes too?" the lady asked.
"One second I know we have information about it here somewhere!" as around a minute went by Johnson found information and the tickets for the play. "It looks like it starts the 26th and goes though the 29th, what day are you looking to buy your ticket for?" Johnson asked. Still a little confused the lady was curious onto what day the 26th was "the 26th is a Tuesday right?" "Yes it is" Johnson said. The lady purchased two tickets for the play.

Besides helping outside guest, Johnson has a big responsibiliy. Informing students and answering phone calls of confused parents she always has a answer. At the close of most days, Johnson also gives the school a closing annoucment. Before she talks, she plays a little toon and then she goes on usually about bus changes. "Oh my gosh! I need to practice my daily annoucment!" as she practices on her xylophone.