From South To Senate: Making Kansas Safer
Senior Emily Lang works to pass a bill in the Kansas Senate after experiencing a sexually motivated breach of privacy.
The fourth and final woman to testify to the Senate Judiciary Committee Feb. 24, senior Emily Lang shared her story to the Old Supreme Court room filled with Kansas legislators. Senators stood in support of the bill requiring sexually motivated breach of privacy to be listed on the sex offender registery, inspired by the stories of these four women, even going so far as to suggest stricter amendments. 
Oct. 28, 2017, Emily and her friends were shopping at Forever 21 in Oak Park Mall for Halloween costumes. While in the fitting room, Emily noticed a phone, camera side up, under the partition which did not extend all the way to the floor. 
"I think everyone knows that feeling of being watched and being paranoid," Emily said.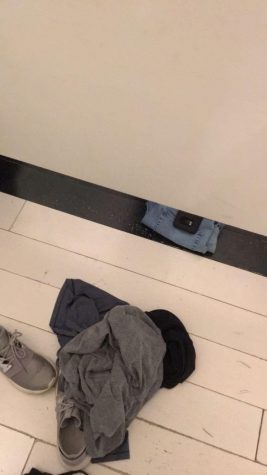 Her first reaction was to take a picture of the phone and send it to her parents. After debating if she was overreacting or doing the right thing, Emily found an employee and explained the situation. The employee found the manager who told Emily that there was nothing the store could do. So Emily called her father, Jay Lang, who had been coaching her brother's baseball game and they both called the police. By the time Jay arrived at the mall, the police were already there. 
That evening, Emily's mother, Marnie Lang, sent a Facebook message to then-41 Action News anchor Christa Dubill. The previous year, Dubill had been grocery shopping when she noticed a man recording video up her skirt. She confronted him and called the police. She pressed charges and he was convicted. Using her platform, she was able to share her story.
"I was public about my experience because I found out from a district attorney that this is happening a lot to… women and a lot of times they don't even know it happened," Dubill said.
Marnie was one of many who reached out to Dubill, inspired by her confidence to share and hoping to gain some clarity and perspective on their own situations. The Langs stayed in contact with Dubill who was able to give Emily advice on how to write her victim impact statement for her future court case and provide guidance and support. 
"I will tell you, there is not a greater honor [than]… to have somebody trust you enough to reach out," Dubill said, "To be able to know that something you did helped somebody else; and to sit in that courtroom in support of Emily; and to gather the group of women and girls who went to Topeka to testify; to be able to help give them a voice – I don't know that there's a better feeling."
Despite the gratification of coming forward, telling your own story can be incredibly difficult and intimidating for many victims. Even for Dubill, who had a 20 year career sharing other people's stories, telling her own story was not easy. Eventually Emily spoke out about her experiences.
"It can be something that feels very belittling and evil and a lot of victims feel silenced and they don't want to testify and that's fine; that's how they want to deal with it," Emily said. "But I feel like it's so empowering to be able to help… the next person and prevent this from happening."
April 2018, after another event with a new victim in December 2017, the police and special victims unit were able to track Emily's offender* to his home in Joplin, Missouri. It was discovered that he would travel to locations where he knew he would be able to take pictures in dressing rooms. Over 150 photos of women and young girls were found on his phone. 
Standing behind a podium an arm-and-a-half length away from her offender, Emily read her victim impact statement to the courtroom filled with her friends, family and even reporters and news cameras – something rather unheard of for Johnson County. Her offender was sentenced May 30, 2019 to 18 months of probation – without a cellphone – and 15 years on the sex offender registry. May 31, 2019 he reoffended again at a Target in Olathe – using a cellphone. Police were notified and he was taken to jail. (The sentencing for this probation violation and second breach of privacy is scheduled for May 13.)
"[It] was very empowering to be able to go up there and read and say how it has made me feel and look at him… and see him get carried off in handcuffs and all that," Emily said, "But I know for some people, it's very belittling and triggering to see that person again."
While Emily was able to face her offender, for many victims and their families, it is a challenge.
"Hearing his apology to the court in his… plea deal, makes you very angry deep down inside; it truly does. Because you know he's untruthful, disingenuous, pick whatever word you want to pick," Jay said.
Now that Dubill and Emily had connections with multiple different victims, they were all able to support one another. If a victim decided they wanted support during their court hearing, the other women available would attend in an effort to make the victim feel more comfortable facing their offender.
"That's a very vulnerable feeling and until it happens to you, you cannot imagine how that feels. And so a lot of times, you don't even want to look at the person who did it to you. You don't want to acknowledge them," Dubill said. "It's hard to stand up in front of the courtroom and give your statement. And so basically, it started out as a text thread that we said, 'We'll be the women in the room who stare at the guy who did it.'"
After some time to work out their respective court cases and process what was happening to so many girls and women, Dubill, Emily and two others decided they wanted to take action. 
"By having news stories about it, they start to feel like one: they're not alone. And two: they can communicate with others who've been through what they've been through because we all feel a lot of the same feelings," Dubill said. "And so then that… not only did it become just this sort of quiet support system… [but] being in communication led us all to being involved in trying to help change the law. And all of that started with sharing a story."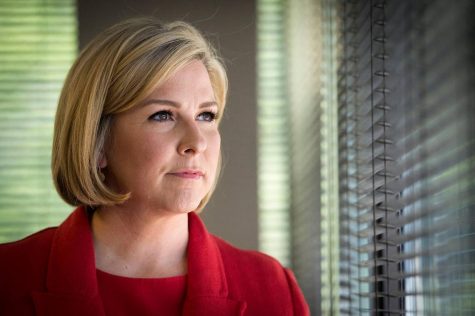 They created a short list of Kansas legislators who they might have been able to work with to get legislation passed. One of the few names on this list was Sen. Julia Lynn. A friend of Dubill's, who is active in the local political scene, ran into Lynn at an unrelated political event. The friend explained Emily's situation to her. 
"When I learned about Emily," Lynn said, "And then the other young woman, my first response was, 'What if that were my daughter?' and I could really, truly empathize with how the young women that were affected and their moms and their families react to something like this. It's horrific. It's such an invasion. And it's the fact that these kinds of photos are used online even adds more reason to stop these kinds of people, to punish them, to bring them to account, to basically, in a way, to right the wrong by making them go public. And that public admonishment for 15 years should be enough to provide a level of justice not only to the women that are affected, but to the perpetrators themselves and hopefully provide a way for them to check their motivation before they try it again."
Lynn, highly interested in helping Emily pass a bill by sponsoring it, attended the Kansas Judicial Council's Sex Offenses and Registration Advisory Committee Jan. 3 to hear Emily, Dubill and the others testify. As the women were leaving, Lynn stopped them in the hall and introduced herself. They quickly began working to create a bill.
"I think it seems like common sense to you and me that taking photos of a 15 year old girl is a sexually motivated crime, but until the laws are updated, [it's not]," Emily said, "We're one of the first 50 states to do this, which is surprising… Setting the stage… showing that it's outdated so people realize and get it on their agendas, I think it's really important."
The goal of the new bill is to update the laws to keep up with technology.
"The bill was very outdated," Emily said. "What he did… is considered the same as intercepting a telegraph, so it's really outdated. What the bill does… [it moves] breach of privacy to a sexually motivated crime and then offenders will automatically have to register for 15 years."
Today, more than ever, it is incredibly easy to use the technology that we all possess – whether it be for good or evil. This means that being aware of our surroundings is one of the most important things we can do for our own safety. Even something so small and common as a cellphone camera can be a threat. Raising awareness is the first step to safety. 
"I feel like when I share my story, people instantly, when they go into the next dressing room, they're going to be more aware of their surroundings," Emily said. 
Feb. 24, the bill was presented to the Senate, passing just four days later 40-0. March 11 the bill was presented to the House Judiciary Committee.
"I think Christa gets all of the credit, along with the girls' parents, on how they conduct themselves in front of a committee… because it can be very daunting," Lynn said. "After Christa and her girls were there as conferees, once they were finished, one of our senators… made a comment. First of all he thanked them for their courage coming forward and he said, 'This is some of the most compelling testimony I've heard in as many years as I've been in this body.'"
Due to COVID-19, Kansas legislation had to adjourn early, but once they reconvene, the House will vote on the bill. If it passes, it will go to Gov. Laura Kelly to be signed into action. After over two years of learning and growing from this experience, Emily will have officially made a difference to the entire state. 
"What makes this so unique is that these are people who came forward without somebody to represent them," Lynn said. "And these women and their families, they were so brave to do this first of all and then they were so committed to get something done… In my career, [it's] one of the most gratifying things I've done."
Since beginning to speak up and share her story, Emily has been on numerous podcasts and been featured in many news articles, including the Kansas City Star. Emily and Dubill even ran a social media campaign to help spread their story.
"I feel very lucky to come in contact with these platforms and raise awareness for what's happened to me to kind of prevent that from happening to the next victim," Emily said.
She encourages others to testify to put a face to the issue.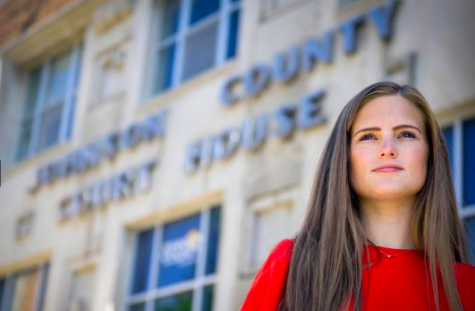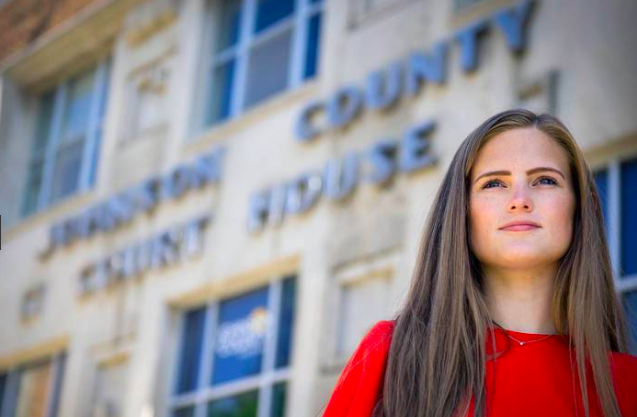 Without the women involved coming forward to tell their stories, legislation might not be in the works. 
"Think about how vulnerable that is to have caught somebody recording you in a dressing room when you're undressed… and to know that a year or two later, you're standing in front of the legislators, representatives, the state of Kansas and telling your story in hopes that someone will decide that it's important enough to change this law," Dubill said. "There's a couple things happening. One: it lets those girls take control back… Two: it tells you that you are empowered and your voice matters. And three: you move forward and you get to be the support system for someone [else]… and you have this experience where you've been able to take control back and affect change… What a cool thing for me to witness these young girls and these women get through those nerves and stand up and do what they're doing."
By simply coming forward in the first place, Emily was able to make a difference to those around her and to the victims that came after her. But all of this could not be done on her own.
"It's been wonderful," Jay said, "Because these types of things sort of take a village, if you will. And Christa has just been an amazing friend to Emily and to the family because she'd been through it before…. She's just a real person… Sen. Lynn, other folks… up in Topeka and other places have all been great supporters of Emily."
Without the support of Emily's parents, this might not have been the case either.
"[My parents have] been very encouraging of me speaking out because they know that I can handle it… It is something I want to do obviously," Emily said. "I think that they're really supportive and they've just been awesome through this whole thing."
Her parents believe that she has learned so much by having this experience at such a young age.
"It's just been good for [Emily] because she's gotten exposure and opportunity – and that's how she sort of dealt with the situation, was making sure that this doesn't happen to somebody else," Jay said.
Despite the hardships the Lang family has had to face since the incident over two years ago, they have not let it discourage them.
"It's brought us closer on some of these things because we've gone to these hearings as a family – or most of the important ones," Jay said. "It's important to everybody. It's her story. [Her brother] Charlie has been really good at supporting Emily through all of this. I don't mean to say it's been a positive experience, but I think we've made the best out of a bad situation."
Finding the positives from even the worst situation can make it easier to deal with.
"Being able to take some good from something so negative can really change your outlook on this," Emily said. "[I think it's] really helpful for dealing with it."
The Langs have all been able to grow and learn from the situation, but for Emily, the effects are especially prevalent in day to day life.
"Almost in a positive way… I'm more aware of my surroundings," Emily said. "But it is unfortunate that I'm not able to be unaware – like that has been taken away from me. But in all honesty, that might be a good thing that I'm more aware of my surroundings and looking out for my friends too."
*As an editorial decision, we have chosen to remove the name of the offender and take away the power he sought in committing this crime.